"A Star Spangled Evening" with the Republican Candidates at the Heritage Gardens was a huge success and a delightful experience for all. The 200 in attendance enjoyed the festive atmosphere and the interaction with local candidates Nancy Young, incumbent District Clerk, Mike Towery, incumbent County Treasurer, Alan Hale, incumbent Justice of the Peace Pct. 2 and Eileen Cox, candidate for Justice of the Peace Pct. 1. Special guests included Congressman Ralph Hall, Senator Bob Deuell, Representative Larry Phillips, Judge Lauri Blake, Bailey Moseley (candidate for 6th Court of Appeals) and County Attorney Richard Glaser.
The "stars" of the evening were greeted with the Red Carpet treatment and a rousing introduction by Richard Deweese (wearing a tuxedo) to a room full of enthusiastic supporters. The Garden setting was perfect for the energy in the room as folks gathered around a free flowing chocolate fountain and beautiful display pieces provided by Tom and Linda Long. As folks talked with the candidates, the movie premier of "Stepping up to the Platform in 2006" was being shown on a large screen TV provided by the Rent-A-Center in Bonham. Special recognition goes to Bill Bennett Productions for producing this video. This informative video is available to libraries, school political science classes, organizations or anyone interested in being a better informed voter.
Alvarine Schatte, President of the Fannin County Republican Women, PAC presented each local candidate with a check to help them with their campaign. Melody Michaud was instrumental in organizing this event, Claudine Witcher carefully planned the gift table, Huetta Bickel provided the expertise for the table decorations and a whole host of dedicated ladies helped make this event very successful.
Richard Glaser talks with Linda Waldrop as Sheriff Kenneth Moore and Alan Hale look on.
The evening concluded with each candidate or guest drawing a winning ticket for the gift they had provided. Twelve unique gifts, to include a hand made bench, a limited Eagle sculpture, a crystal dish of U.S. Capitol, a silver bracelet to Judge Blake's famous brownies, were given to the delight of the winners.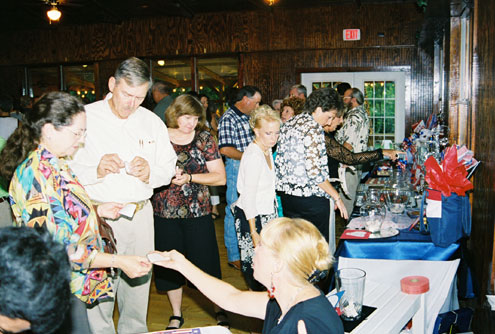 Donna Henard hands out tickets for raffle to AW & Anna Belle Winningham as Claudine Witcher and Tina Moore look over the gifts.
Watch for information and plan to attend our next event. The "All American Afternoon" of family fun will again be held at the Bar S Ranch in Telephone, Tx on September 24, 2006. Everyone is welcome and we hope to see you there.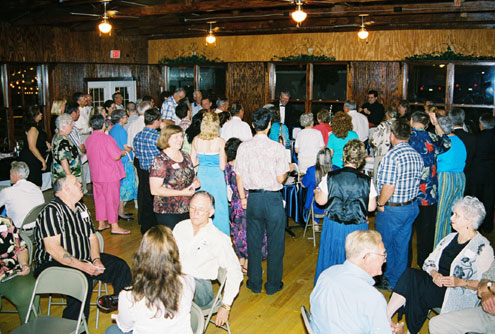 Richard Deweese anounces the gift winners to the crowd.